KPPC Lecture Series
With the aim to build national capacities in the area of public policies, the KPPC holds a monthly talk series that provides a platform for policy dialogue and relevant policy debate. The talk series brings onboard renowned speakers, practitioners, and academic researchers with public policy expertise from around the world. In engaging with the public, experts and national stakeholders. The KPPC Lecture Series serves as a platform where different ideas from around the world are shared and policies are challenged to inform future policies. The first step to drafting an effective public policy is to have the knowledge and expertise needed to produce it. The KPPC lecture series serves to share expertise and knowledge in order to effectively take that first step.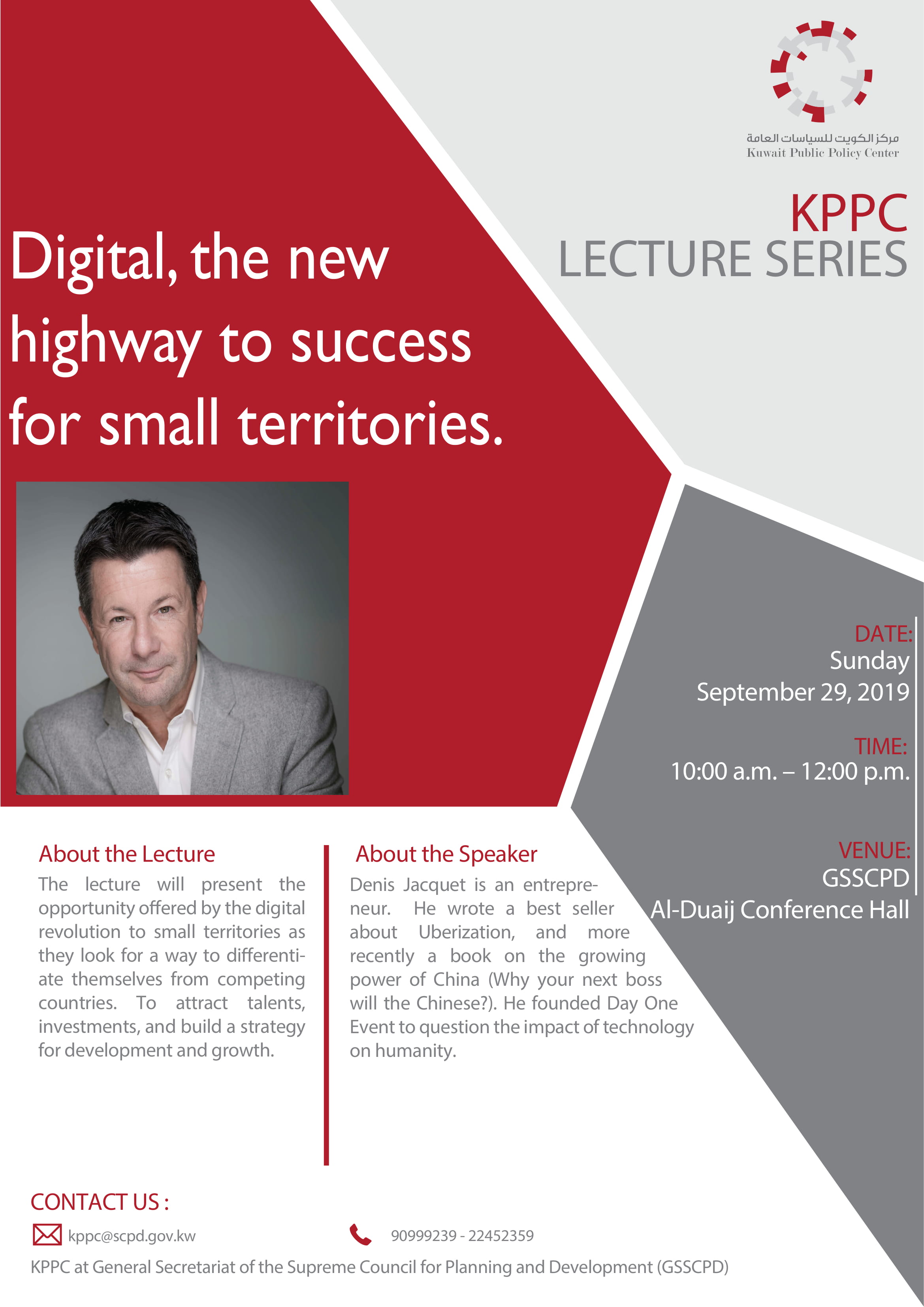 Digital, the new highway to success for small territories.
The lecture will present the opportunity offered by the digital revolution to small territories as they look for a way to differentiate themselves from competing countries. To attract talents, investments, and build a strategy for development and growth.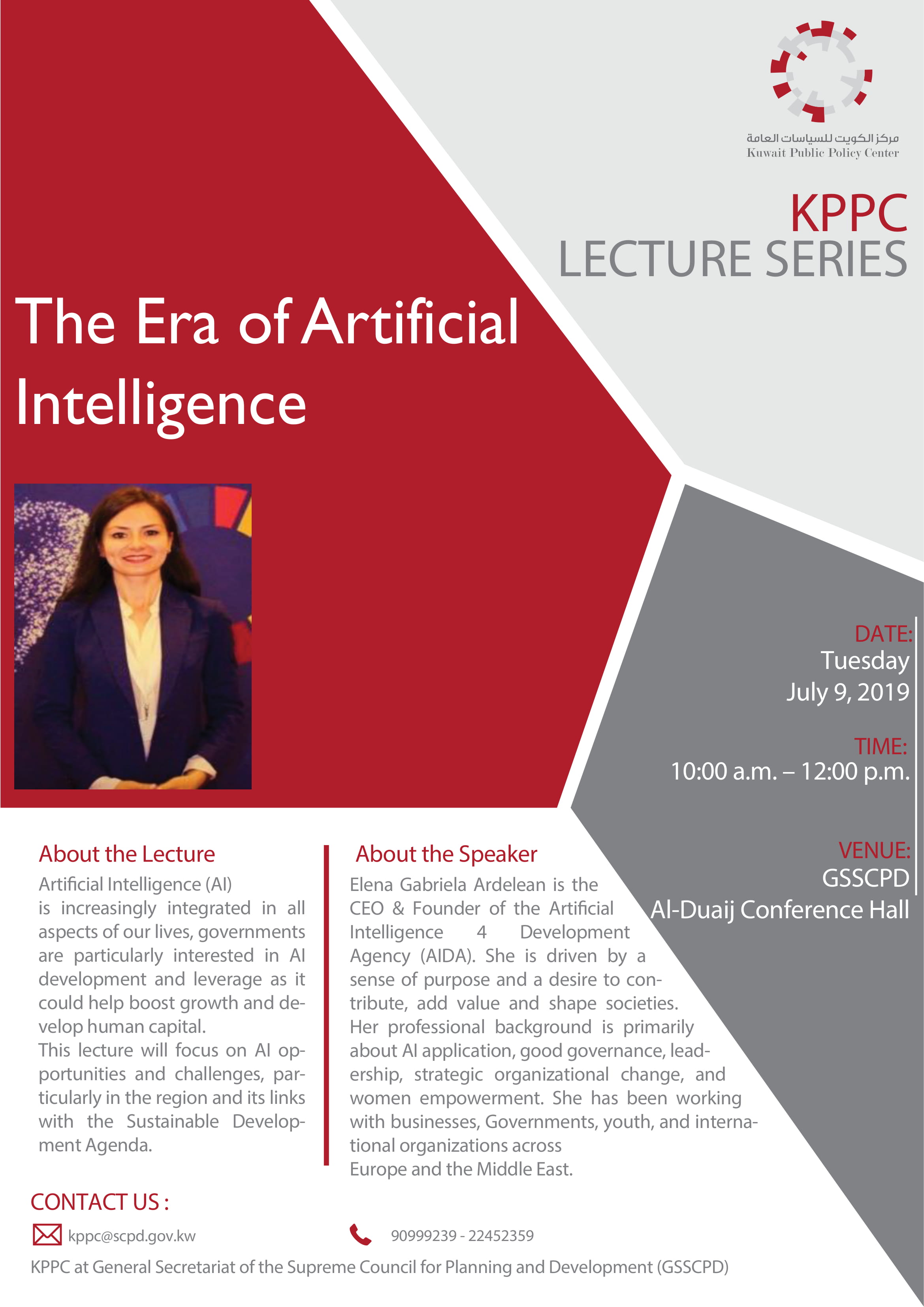 The Era of Artificial Intelligence
Artificial Intelligence (AI) is increasingly integrated in all aspects of our lives, governments are particularly interested in AI development and leverage as it could help boost growth and develop human capital. This lecture will focus on AI opportunities and challenges, particularly in the region and its links with the Sustainable Development Agenda.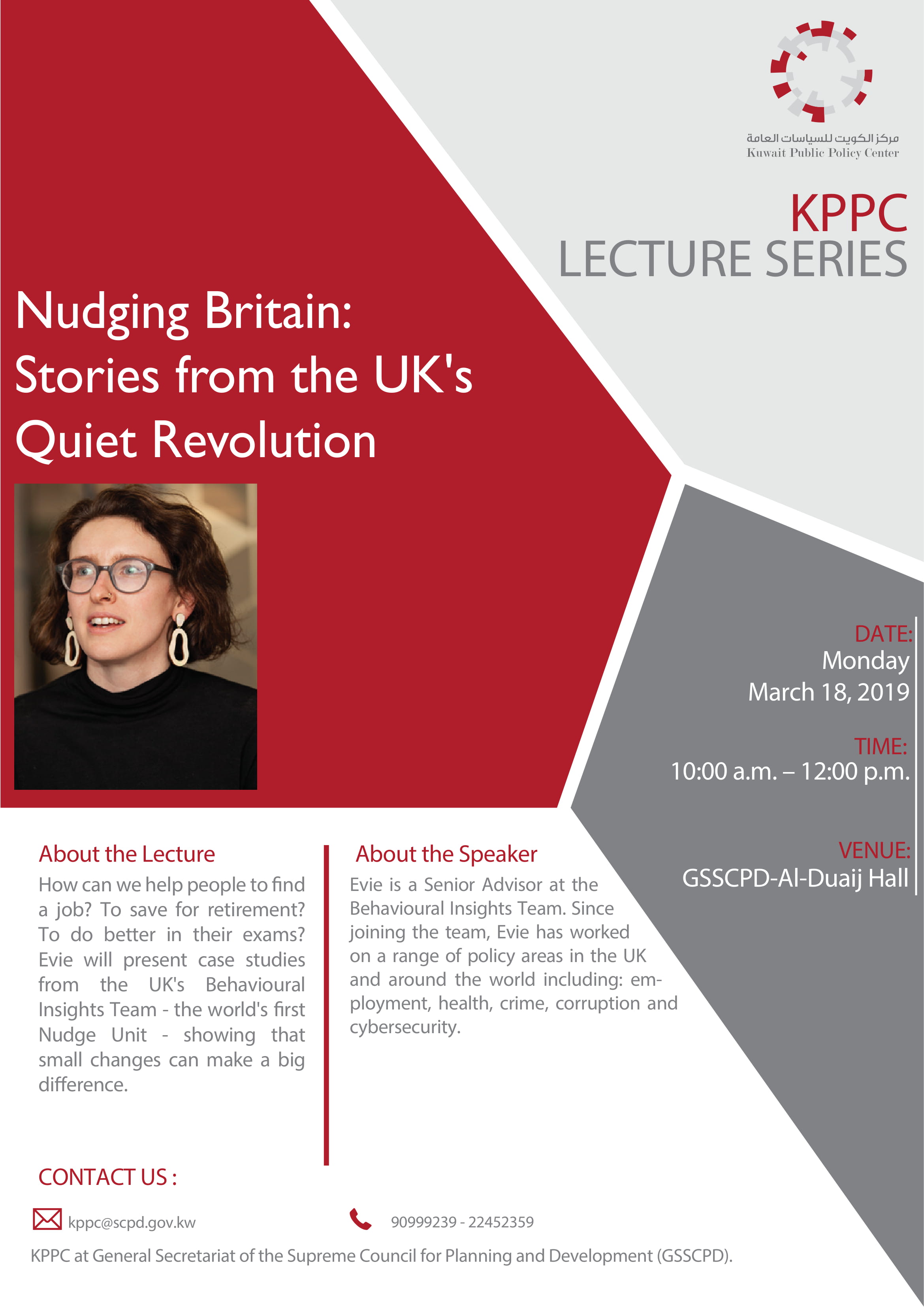 Nudging Britain: Stories from the UK's Quiet Revolution
How can we help people to fnd a job? To save for retirement? To do better in their exams? Evie will present case studies from the UK's Behavioural Insights Team - the world's frst Nudge Unit - showing that small changes can make a big difference.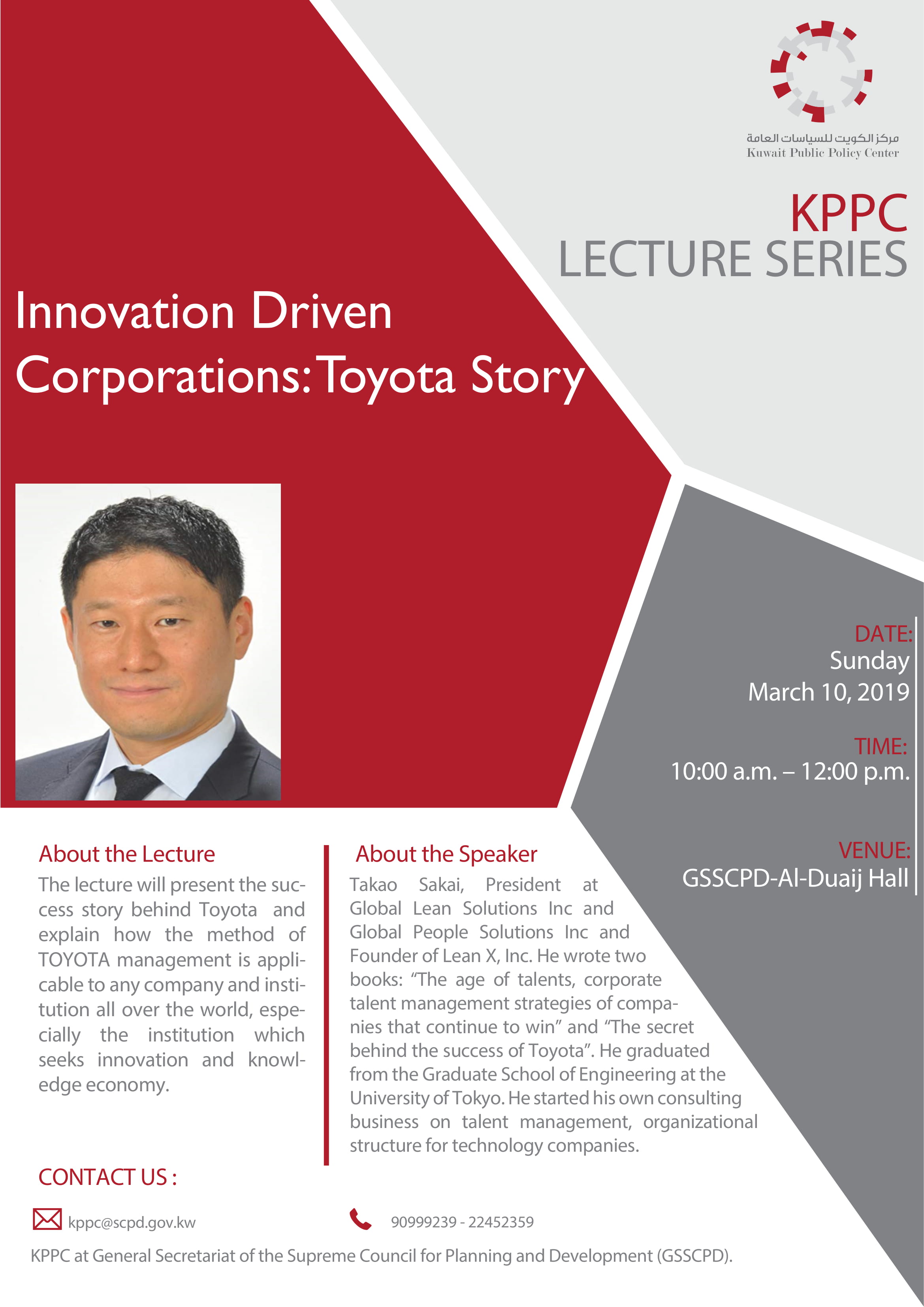 Innovation Driven Corporations: Toyota Story
The lecture will present the success story behind Toyota and explain how the method of TOYOTA management is applicable to any company and institution all over the world, especially the institution which seeks innovation and knowledge economy.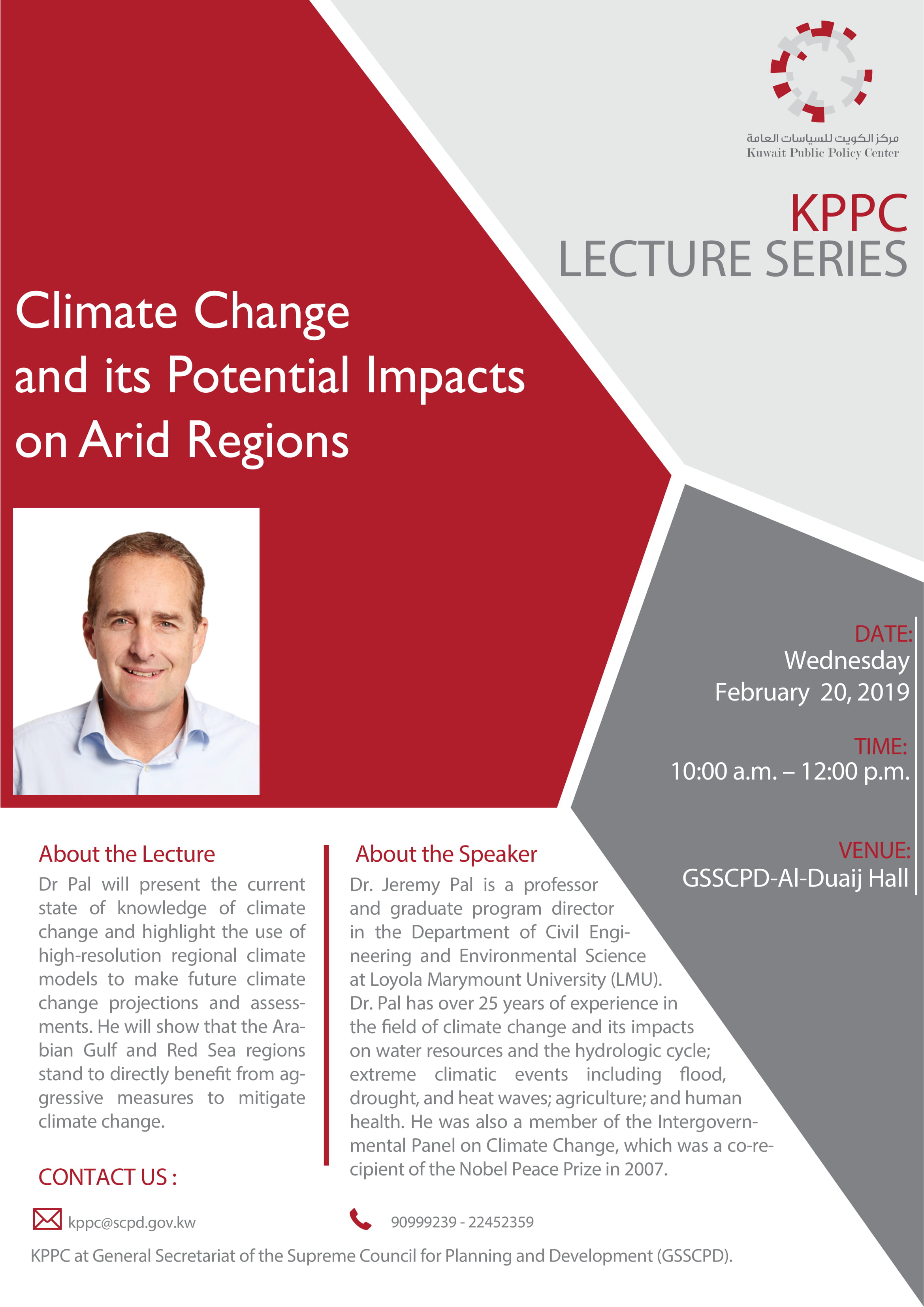 Climate Change and its Potential Impacts on Arid Regions
Dr Pal will present the current state of knowledge of climate change and highlight the use of high-resolution regional climate models to make future climate change projections and assessments. He will show that the Arabian Gulf and Red Sea regions stand to directly benefit from aggressive measures to mitigate climate change.